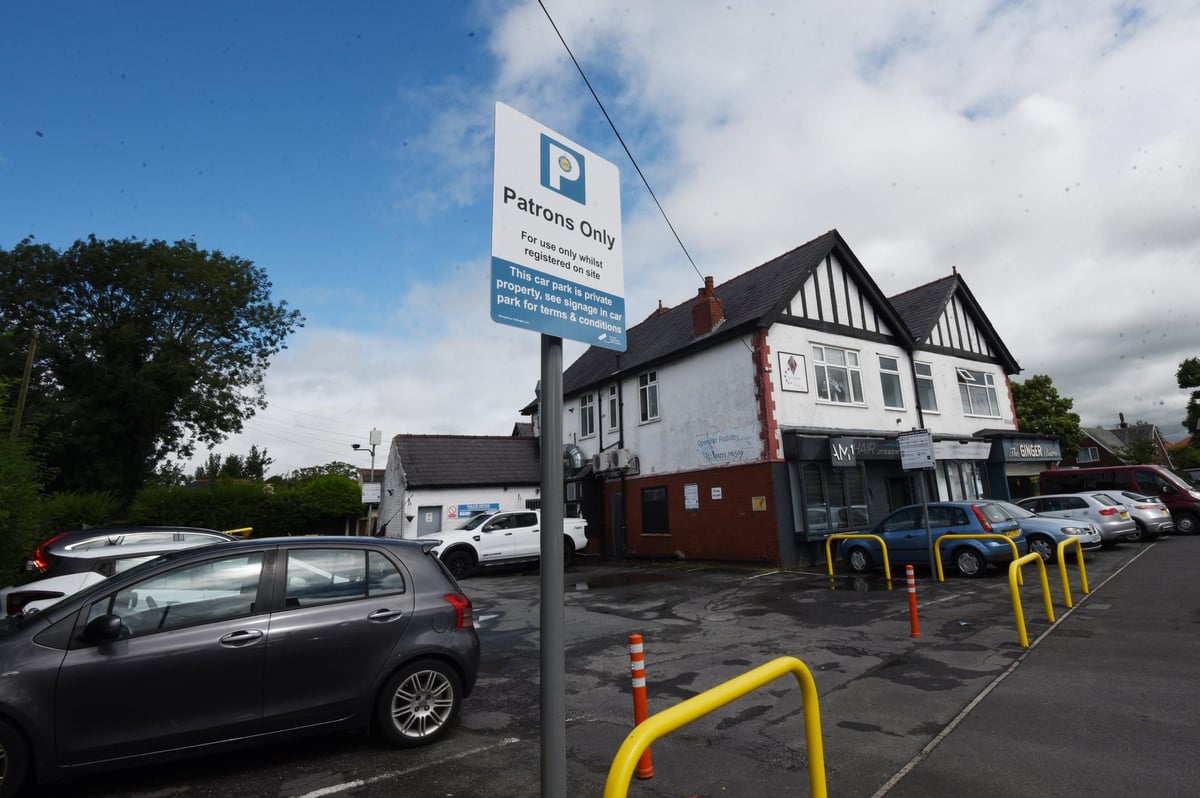 Parking fines at famous Preston Bistro discourage customers from lunch
Diners at the Ginger Bistro on Garstang Road, Fulwood, claimed they were being slapped with hefty fines by parking management service Parkingeye.
Guests dining at the restaurant generally use the small rear parking lot located on Broadway.
The system requires customers to enter their registration number using a QR code or link for monitoring purposes only. No cash is required as the car park is free to use for two and a half hours as long as customers use the businesses that belong to the car park.
General view of car park next to Ginger Bistro, Broadway, near Garstang Road, Fulwood, where motorists claim to be hit with parking fines
Many diners took to Trip Advisor to express their frustration at being fined despite following correct parking protocol.
An upset guest has claimed he dined at the bistro a week ago only to be handed a £90 parking fine.
In response to the review, Ginger Bistro owner Soji Joseph said the customer was not the first person to report that he had received a fine and would have it canceled without issue.
He said: 'We have received a number of complaints from our customers about parking fines from the newly installed Parking Eye when they have visited us for food and drink. This was a measure taken by the owner to reduce the number of people parking in the car park but not the use of the shops on site.
Customers are allowed to park for 2.5 hours if they submit car registration
Read more
Read more
Prizes to be won: when and why Preston Markets is launching a new website
"We are working closely with the Parkingeye team to resolve unnecessary fines which neither we nor they would wish on anyone."
The popular restaurant which was recently crowned 'Best Cafe Bistro' in England has recently seen a deluge of customers.
Manager James Kacperek told the Post that the parking problem has eased over the past week and the restaurant is doing everything it can to help reduce stress for its customers.
A general view of the parking lot next to the Ginger Bistro
"We went from 30-40 tickets per week to 10.
"It hasn't deterred customers or affected business as we are always very busy.
"When customers first arrive, they should be wondering where do we sit, not where do we solve a parking problem"
"It's not a new problem, it's because we have a lot of new customers.
Soji Joseph, manager of Ginger Bistro, said he was working with Parkingeye to resolve the issue for customers.
"Before, there had never been a time restriction, but the owner imposed it in the middle of last year.
"I would say to any customer who walks into the restaurant who has a parking fine, give us a call and we will verify your visit and fix the problem."
A Parkingeye spokesperson said: 'The Ginger Bistro car park in Preston is monitored by ANPR camera systems and has prominent and highly visible signage throughout providing advice on how to use the car park responsibly.
"Signage advises customers of Ginger Bistro, Sole and Beauty, AM1 Hair and Another Bouquet how to register for 2.5 hours of free parking.
"Parkingeye runs a BPA (British Parking Association) audited appeals process, which motorists can use to appeal their parking charge notice. If someone has extenuating circumstances, we encourage them to point this out when appealing. All motorists are also entitled to further recourse through POPLA, the independent body that reviews all cases.